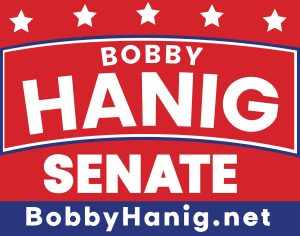 Currituck, N.C. – State Senator Bobby Hanig, a dedicated small business owner and committed public servant, has formally announced his intention to seek re-election in 2024. Senator Hanig is calling upon Northeastern North Carolinians to place their trust once again in him to continue serving and representing their interests.
Having previously served two terms in the State House before winning his Senate seat in November 2022, Senator Hanig brings a wealth of experience and a strong record of accomplishment to the table. He remains deeply committed to the people of Northeastern North Carolina and is proud of his accomplishments in advocating for the needs of the district.
Senator Hanig stated, "It has been a privilege serving in the State Senate. I am proud to represent Northeastern North Carolina and believe we have been very successful this year in advocating for the people in the district. In the budget bill, I helped secure an unprecedented $134 million for critical projects in the district. These resources will bolster our first responders, support water and sewer improvements, and fund various other essential projects."
Senator Hanig's journey in public service began in 2016 when he was elected to the Currituck County Commission and then elected to the State House in 2018.  He served with distinction for two terms before earning the trust of his constituents in the 2022 State Senate election. In the Senate, he serves on multiple key committees, including Agriculture, Energy and Environment, Appropriations on Education/Higher Education, Education/Higher Education, Pensions and Retirement, and Aging, and State and Local Government.
"In Raleigh, I'm focused on addressing pressing issues such as fighting inflation, creating jobs, safeguarding education rights, and collaborating with law enforcement to combat crime," Senator Hanig emphasized. "I make it a point to travel throughout the district daily, engaging with constituents to better understand their needs. I take these requests with me to Raleigh, where I work tirelessly to find solutions that enhance their quality of life."
Senator Hanig has been a proud resident of Currituck County for over 25 years. Throughout his legislative career, Senator Hanig has been a force for positive change, championing important reforms that include tax cuts benefiting North Carolina families, hurricane assistance, pay raises for teachers, voter ID, broadband expansion, coastal resilience, and election integrity. In addition, he proudly voted to end the state tax on retirement pay for members of the miliary.  
Senator Hanig's commitment to the welfare and prosperity of Northeastern North Carolina continues to be unwavering. As he launches his re-election campaign for 2024, he remains dedicated to working tirelessly on behalf of his constituents to secure a brighter future for the region.